It is very imperative that you set your Instagram account up using the name "AMP Your Income" in the username in some form. Then we can move on to your bio. Your bio is very important because it the one chance you have to want them to get to know more about you and possibly turn them into member of your AMP Your Income team. You see, this is where your link will go and your call to action. A call to action is basically a statement that says "click link in bio for more info"! If you have a Facebook page it would be wise for you to link it by doing the following steps:
Go to your profile and tap in the top right.
Scroll down and tap Linked Accounts, then select Facebook.
Your Instagram account will link to your personal Facebook Timeline by default. To link to a Page instead, tap Share to and choose a Page that you manage.
Next tell a little about yourself in the bio. Keep it short and sweet. For instance, if you consider yourself to be an entrepreneur state that. If you are a stay at home mom, state that. State some activities that you enjoy doing. The point is to get a little interpersonal so people know you are not just trying to sell them something. People genuinely gravitate to character and personality.
Moving on to the pictures. Try to post pictures about your lifestyle. Don't always try to sell your product or else people will get turned off. You can use
Instagram Marketing Software
to upload multiple pictures at once and it will allow you to put your caption for each as well as hashtags. Remember, Instagram is not like Amazon where people know they are about to buy something when they log on. Instagram, it's about visual persuasion.
It's also very important that you show value. Are you offering something they want or need? I can tell you right off top that AMP Your Income is a service that everyone is going to want, and it's going to become very addictive like Netflix is. If you show value you are bound to get more followers especially if you use this
instagram followers bot
. At this point if you have people showing interest, you can direct message them, not with a hardcore sales pitch, but more on a personal level.
If you establish a huge following on Instagram, you can branch off to other social media outlets and it will be 10 times easier to build because you already have a presence on social media.
DO NOT
do this though until you have mastered Instagram. A good tool that can also be used with the software Followadder is the
Instagram Scheduled Poster
.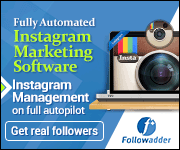 I spoke above briefly about using a hashtag, but allow me to go into further detail.A hashtag is just a word or phrase with the # sign in front of it. For instance #mobilegames, this is a hashtag that you should include, some say in the comments after the picture is posted, some say it's ok to use it in the caption. I have tested both ways out and seen no difference.
So as you can see, it is very easy to boost your Instagram account followers which eventually lead to sales for your AMP Your Income business. If you run out of picture content, well that is what Google images is for, get creative. Motivational quotes are all on Google and seem to draw a lot of attention so if you want to go that route that is good as well,but keep it consistent.
Let's get rolling to making AMP Your Income the best home business on the internet with a strong Instagram presence.